Longtime Tucson-based edibles favorite OGeez! brings the trailblazing spirit of its founder into a new era of deliciousness.
Of the many, many cannabis edibles on the market today (and believe us, there are a lot), there are only a scarce few that consistently deliver in terms of both quality and overall value. Among the brands found at the center of that Venn diagram, Tucson-based OGeez! gummies stand out as one of the most reliably tasty and frequently sought-after line of products around.
Not only are OGeez! gummies one of the most widely enjoyed gummies in the Arizona market; the company is also among the longest-running, with origins hearkening back to days before legal access to cannabis. Much of the legend and lore surrounding the brand's origins is centered around its founder, Peggy Noonan.
As far back as the late sixties, Peggy worked in the industry, transporting cannabis between Mexico and Arizona. Working as a veritable outlaw, she made a career out of bringing the then still-illicit plant material across international lines. Sometimes, she's recounted, Mexican couriers would bring the product down the mountain by donkey, a notable departure from the nature of the cartel-run cannabis trade in the region today.
After a stint in a Mexican jail, Noonan decided to adjust to a business-to-consumer (B2C) model, opting to forego being the middle-man, so to speak, in favor of dealing directly with the sinsemilla seeking public, herself. However, after that venture led to a probation sentence, her activity within the industry took a backseat to academic pursuits, which brought her briefly home to her native New York.
Shortly after the passing of the Arizona Medical Marijuana Act (AMMA), Peggy saw an opportunity to "go legit," and, armed with her savvy and experience, dove into the burgeoning market, founding Cornucopia Infusions in 2013.
Cornucopia (eventually shortened to Copia Infusions) has the distinction of being the first "from scratch" cannabis kitchen in the state. Initially, the brand made a variety of baked goods, hard candy and tinctures, all of which helped establish the brand as an emerging leader in cannabis confections across the State of Arizona.
In March of 2018, Noonan penned a letter informing the MMJ community that she had been diagnosed the previous year with Acute Myeloid Leukemia.
Not long after this revelation, Copia shifted its focus away from the wider edible market, beginning 2019 with an acute focus on its made-to-order medicated gummies, the very same OGeez! you know and love today. In just the first two years following this change in direction, the company saw a 4,000 percent increase in profits, indicating the right choice had been made.
Initially, the OGeez! gummies line consisted of orange creamsicle, tropical, blackberries & cream, watermelon with chia seeds, and raspberry orange, all of which are still available today in both Sativa and Indica varieties. Sold in 100, 200 or 300mg packaging, each bag contains 10 gummies per package, making it possible for both recreational and medical consumers to enjoy them.
The OGeez! product line has since expanded, with the brand introducing new varieties, including Mini OGeez! and RSO gummies. In addition, OGeez! has been known to drop special limited-run flavors such as this year's seasonal OGeez! Summer EditionPina Colada flavored gummies available in rec-friendly 10-piece, 100mg packages.
It's precisely because of this constant state of evolution and innovation, under which the brand seemingly thrives, that it has earned no small amount of recognition and accolade—the brand has been known to pick up wins from cannabis festivals and awards programs alike.
Sadly, on April 10, 2021, Peggy Noonan lost her battle with Leukemia, passing away at the age of 73. A dedicated member of the Arizona cannabis community, Noonan, who once stated "this industry is my passion and my love," was truly at the pinnacle of achievement in her field at the time of her unfortunate passing.
The enduring success of the OGeez! name, as well as the brand's continued spirit of innovation remains a testament to that achievement, as well as part of an impressive and inspiring legacy.
OGeez! Gummies: Now Curating a Good Night's Sleep
As an extension of the innovative spirit at the heart of the brand, OGeez! has recently added to their line of award-winning gummies, once again, with the recent roll-out of their new OGeezzz! Sleep Edition gummies, which contain a 2:1 ratio of THC to CBN—a total of 100mg of THC and 50mg of CBN per 10-piece bag.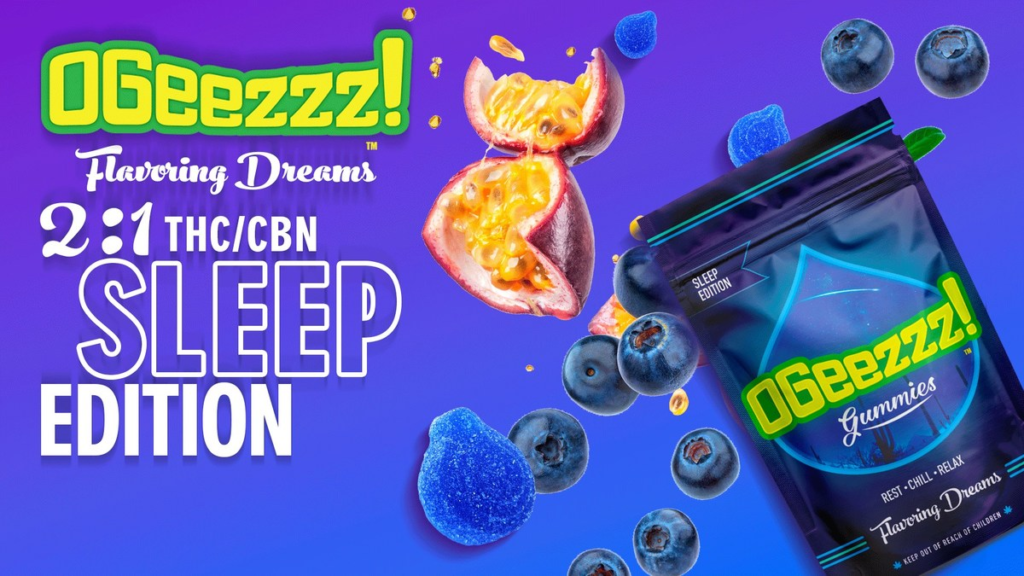 OGeezzz! Sleep Edition gummies are specifically designed to work in three ways:
To help you fall asleep
With the quick acting delivery of only the choicest extracts, OGeezzz! Sleep Edition gummies begin to take effect in as little as 30 to 45 minutes, making it easy to get to bed on time, and fall asleep quickly.  
To help you remain asleep throughout the night
The 2:1 THC/CBD ratio is conducive to a solid night's sleep; one that is free from tossing and turning, or waking up frequently.
To help you wake up well-rested
After a full night's sleep, some people (including those from our own GreenPharms family), who tried the new Sleep Edition gummies, have reported waking up refreshed and free from groggy after effects present with other sleep aids.
It's been quite a journey for the OGeez! brand; from Noonan's initial felonious forays into the illicit market, to her brand becoming a favorite among discerning and dutiful edibles connoisseurs across Arizona. In the time since its inception, OGeez! has established itself as a mainstay, leaving an indelible imprint on the Arizona cannabis landscape for generations to come.
OGeezzz! Sleep Edition gummies are available in Aquaberry flavor, and, just as is the case with the rest of their gummies, the Sleep Edition line is made with premium extracts, derived from flower that is free of chemical pesticides and herbicides. Look for them at GreenPharms, and wherever OGeez! brand gummies are sold.