In November of 2020, Proposition 207 passed, making adult-use recreational marijuana legal in the State of Arizona. With the passage of this ballot initiative, also known as the Smart and Safe Arizona Act (SASAA), a key provision was also ushered in—one that levied a 16 percent excise tax on the sale of the newly legal weed.  
This tax, which was implemented in addition to the existing 5.6 percent tax on medical cannabis, was likely not the most popular aspect of the proposition. However, it has had some positive effects throughout communities statewide.
In 2021, the tax generated $217.5 million in revenue, with that money designated for a number of public programs aimed at improving life for Arizonans.
So where does all that tax money go?
Revenue generated by the excise tax is first funneled into a general fund called the Smart and Safe Arizona Fund. This fund is then used to finance initiatives by Arizona Department of Health Services (ADHS) and the Department of Public Safety (DPS) related to the implementation of the law, before the remainder is disbursed to a number of additional programs.
The institutions funded by SASAA range from community colleges, public safety and transportation, to public health and criminal justice initiatives, each of which receives varying amounts of funding. The current breakdown under the legislation is as follows:
Community Colleges – 33 Percent
After ADHS and DPS are apportioned their allotment, the largest percentage of tax revenue is used to fund community colleges in Arizona. In its first year, tax revenue generated by SASAA reportedly brought in over $17 million for the Maricopa County Community College District (MCCD) alone, a lion's share of the overall $31 million reportedly allotted for Arizona community colleges in total. Money disbursed to community colleges is used to fund workforce development programs, job training, career and technical education and STEM programs.
Police and Fire Departments – 31 percent
The second largest portion of funding is split among municipal police, fire and sheriff departments across the state. The amount each receives is dependent upon how many of each department's employees are enrolled in the Public Safety Personnel Retirement System. During the first year of legalization, SASAA fund netted these organizations nearly $11.7 million to be distributed among some 37,051 enrollees.
Arizona Highway User Revenue Fund – 25.4 Percent
The next recipient of revenue generated by the excise tax is the Highway User Revenue Fund, which in turn distributes deposited monies to cities, towns and counties as well as the State Highway Fund. According to ADOT, money allocated to the fund serves as a "source of revenues available to the state for highway construction, improvements and other related expenses."
From July, 2020, when cannabis purchases first went into effect, to the June, 2021 distribution of funds, the Highway User Revenue Fund took in $9.4 million in excise tax revenue.
Justice Reinvestment Fund – 10 percent
Established as a provision of SASAA, the Justice Reinvestment Fund is a restorative justice initiative focused on "addressing the underlying causes of crime," "developing technology and programs to assist with the restoration of civil rights and the expungement of criminal records," and "reducing drug-related arrests and reducing the prison population in this state."
The Justice Reinvestment Fund distributes revenue to reform initiatives (35 percent), with an equal portion going to public health departments, followed by public health issues (30 percent).
This reinvestment initiative is a hopeful successor to 2008's Safe Communities Act, the state's comprehensive, if short-lived, previous justice reinvestment initiative, which was repealed in 2011 due to budgetary pressure.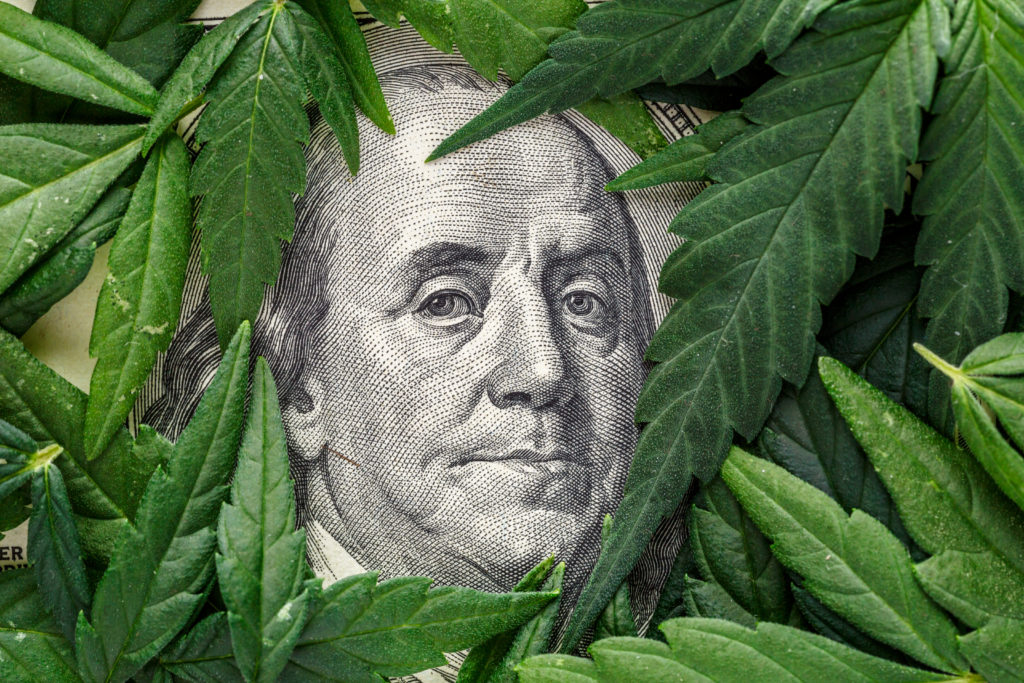 All SASAA-funded programs receive disbursements twice a year; the first is to be sent at or before the end of the second fiscal quarter (June 30), and the second to be distributed at or before the end of the fiscal year (December 31).
For many of the individuals standing to benefit from the funding of these programs, the excise tax has been a boon, and the impact they have had on communities throughout the state is undeniable.
Among the top beneficiaries of money allocated to the Justice Reinvestment Fund, for instance, are nonprofits that focus on restorative justice efforts, such as those that hold expungement clinics.
To date, over ten thousand marijuana-related convictions have been expunged, impacting the quality of life for a segment of the population who often experience challenges stemming from their cases long after they've satisfied the conditions of their sentences.
Combine those expungements with the funding for much-needed STEM and job training programs—not to mention the infrastructure, public safety and road improvements also enabled through tax revenue— and the community impact can clearly be seen.
Ultimately, the legalization of cannabis has, by many indications, been abundant in upsides. In addition to the Smart and Safe Arizona Fund, newly awarded social equity licenses seek to help level the playing field for individuals from underserved communities—particularly those negatively affected by anti-marijuana legislation. Meanwhile, it cannot be understated that decriminalizing marijuana use has led to a clear decline in marijuana related offenses, and arguably, subsequent recidivism.
Increasingly, it appears the momentum toward federal legalization continues to gather steam, with Montana, New Jersey and South Dakota joining Arizona to comprise the most recent group of states opting into the legalized cannabis market.   
With the total of legalized states at 18, and 38 states offering some level of decriminalization for medical cannabis, it's reasonable to envision a scenario in which the final remnants of the War on Drugs eventually become a distant memory. Hopefully, when that day comes, the impact will be as positive on a national scale as it's been throughout Arizona.