This Mother's Day, Greenpharms would like to take time out to appreciate moms across the world. Pick up a canna-bouquet at our store to show your gratitude in the GreenPharms way.
As the negative stigmas surrounding cannabis continue to diminish, a number of mainstream demographic sections have becoming more visible, both as advocates and consumers of weed.  
One of the most noticeable shifts in the paradigm has come in the form of a female contingent. From college-aged young adults to middle-aged business professionals, women from all facets of modern life have begun to comprise a more significant portion of the burgeoning cannabis landscape.  
Over the course of the past decade, the industry has seen a particular uptick in one segment of female consumers: mothers.  
That's right; despite an abundance of humorous memes suggesting that mommy's favorite way to relax grows on a vine, it's increasingly likely that she may be more interested in something growing on a different type of plant. To put it another way, mother dearest may be trading in her wine for weed. 
Without a doubt, the decrease of negative stereotypes has been a significant component in this cultural sea change. This has presumably been a welcome development for many women, a majority of whom have been subjected to any number of unfair gender expectations and restrictive stereotypes—especially as it pertains to individual freedom and autonomy. 
Empowered cannabis-using mothers have begun to take their message to online platforms, pointing out the absurdity of archaic and unfounded stigmas, some going as far as to point out a double standard that exists between marijuana and alcohol use.  
This past 4/20, for example, musician, mother and marijuana enthusiast Margo Price took to Twitter to post a photo of herself smoking a joint against a police lineup background, with a caption that read "the war on drugs is bull***t, especially considering that alcohol kills more people than all illegal and prescription drugs combined. legalize cannabis now and free those incarcerated," before encouraging her followers to donate to ACLU and The Bail Project.  
As a result of this seeming new normal regarding so-called "cannamoms," a growing number of products seem to be tailored for those fully immersed in "mom life." Notably, sublingual tinctures and sprays have become more prevalent as consumers have begun to increasingly seek them out. At least, it would appear that way, based upon anecdotal evidence collected among the dispensaries in Phoenix and throughout the Valley. 
Brands like Colorado-based Mother and Clone, advertise such products as an alternative to smoking, which suggests that the act of taking a puff may present a barrier that keeps some women from interacting with cannabis. The company further markets their sublingual spray to moms by highlighting the ways in which the product can help in everyday life: "Taxes, art projects with the kids, dinner with in-laws? We got you," the copy for their Cannabis Nano-Spray reads.  
When it comes to our own dispensaries in Mesa and Flagstaff, products like Valentine's Day Heart Boxes or Mother's Day Cannabis Bouquets have proven quite popular among many female customers. This marketing approach is far from unintentional; a key objective of GreenPharms CEO and owner, Marie Saloum, is to bring what she calls a "much-needed woman's touch" to a decidedly male-dominated industry.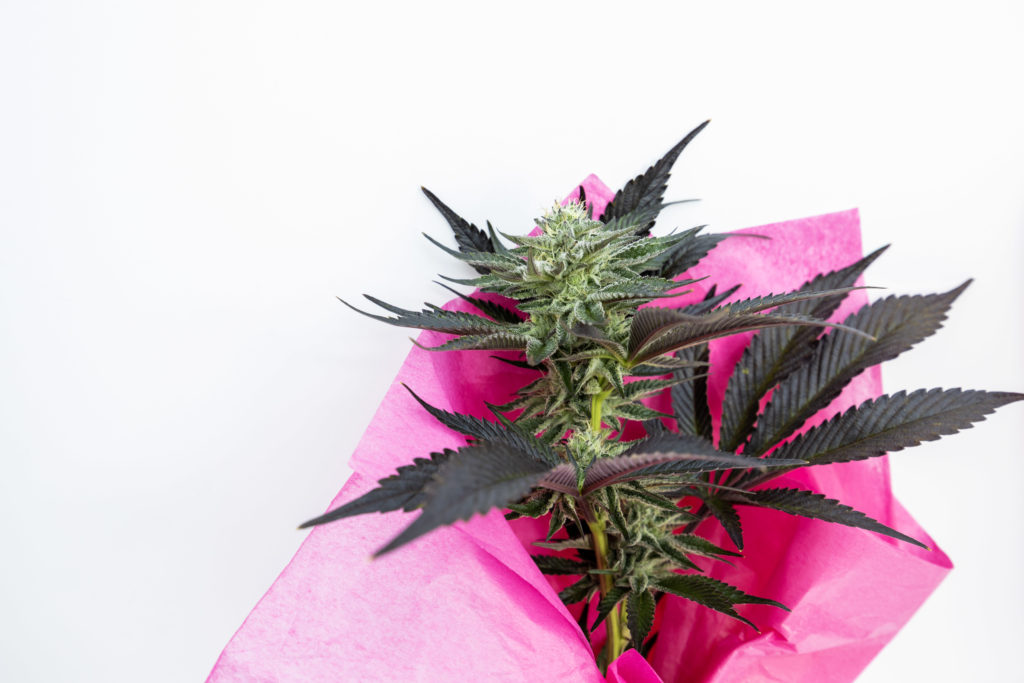 In addition to fading stigmas and easy access to products, another possible explanation for the increase in moms opting for marijuana is self-care. Research suggests that new mothers may find some relief for post-partum depression through the use of cannabis. These findings represent a potential gamechanger for patients who are averse to using traditional anti-depressants, namely selective serotonin reuptake inhibitors (SSRIs), during pregnancy and breastfeeding. Studies conducted on the use of such medications have been shown to produce overstimulating effects, particularly in preterm or premature infants, who receive traces of the drug through breastmilk.
As for potential implications concerning the presence of cannabinoids in breastmilk, the science appears to be less than complete. As such, the American College of Obstetricians and Gynecologists have taken a "better safe than sorry" approach to the topic, stating "There are insufficient data to evaluate the effects of marijuana use on infants during lactation and breastfeeding," before adding that "in the absence of such data, marijuana use is discouraged."
However, while such an approach may seem reasonable for some, it is far from definitive, and does not provide any alternatives for individuals suffering from post-partum depression who are unable or otherwise reluctant to take SSRIs.
What's more, a review of existing data, conducted by Johns Hopkins Berman Institute of Bioethics, suggests that cannabis use during breastfeeding should be considered on an individual case-by-case basis. The review found that "Restrictive breastfeeding policies for women who use marijuana which do not utilize an individualized, shared decision-making approach are not ethically justified, and may disproportionately undermine health of underserved women and infants."
It should be noted that because research is limited in this area of study, one should always consult a physician, and use cannabis in accordance with state law.
Outside of post-partum depression, an expanding amount of research continues into the use of THC and CBD and other cannabinoids for more generalized forms of depression.
Of course, it's true that depression, at large, does not affect women exclusively. However, it's perhaps noteworthy that studies indicate that women are more likely to seek care for their mental health than are their male counterparts.
It's important to acknowledge that like any other demographic, women are not monolithic. Therefore, the reasons for engaging with cannabis are likely to vary according to each person's individual preference.
Individual reasons notwithstanding, the fact remains that women are emerging as a significant demographic group within the cannabis market, as well as within the industry itself, where women are increasingly being appointed to C suite positions.
Regardless of where you think your mom stands on the issue, it may be worth asking her before picking up the obligatory wine and roses to on the way to celebrating Mother's Day this year. She just may opt for a preroll and a bouquet of cannabis instead.