In his book, The Death of Expertise, author Tom Nichols laments what he sees as the departure of the "expert" from many aspects of life, evidently replaced by armchair know-it-alls who tend to pontificate without actually having any experience with the particular topic about which they proceed to wax eloquent.
You may have seen this tendency satirized in movies or television; parents arguing with a pediatrician, adamant that their hours of online research supersede the years of education it takes to actually administer care in the medical field as a doctor.
Perhaps you've even heard politicians minimize a need for the input of military experts when it comes to foreign conflict, or outright contradict medical professionals' analysis and peer-reviewed empirical evidence in favor of what they describe as their own "gut feelings" on matters of public health.
While the latter are admittedly high-profile examples of this phenomenon, there are observable instances in everyday life, as well.
Not too long ago, you could walk into any retail shop with only a vague idea of what you needed. Through little effort, you'd find a clerk who was not only willing to help find what you were looking for, but who was actually knowledgeable enough to advise you as to the best practices related to your specific needs.
Increasingly, it seems those specialists, whose objective was to inform and educate, have been replaced by individuals who, for all intents and purposes, serve as space fillers—personnel who can ring you up for a purchase, but can't tell you a thing about the product you are purchasing.
While this is seemingly the case in most aspects of commerce today, there are still some notable exceptions. One such anomaly is apparent in the world of cannabis.
Visit any dispensary in Arizona, and you are likely to encounter friendly staff with an extensive breadth of knowledge when it comes to marijuana. Rather than the stereotypes of forgetful, inept stoners, patients are greeted by sociable, outgoing individuals, proficient in their line of work and eager to help find the best product for their customers.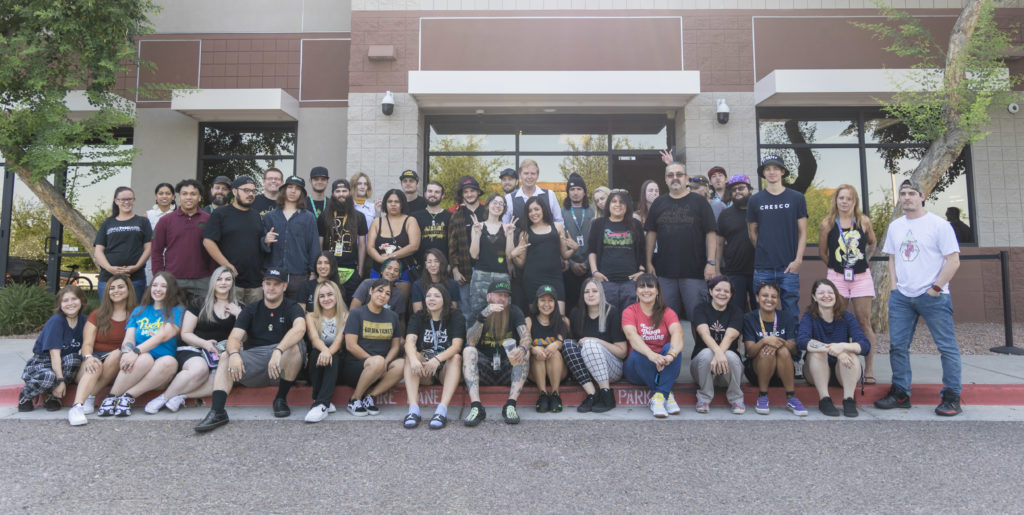 In particular, budtenders undergo an extensive amount of training to ensure that they are able to provide patients with exemplary care and answer any questions they may have.
Because they represent perhaps the most public-facing aspect of the industry, budtenders are held to a high standard of acumen and knowledgeability. As such, budtenders often return to the training room whenever there are new products or procedural changes in the rapidly changing environment.
Additionally, a majority of budtenders have a shared passion for cannabis, which is to say that they're actually immersed in the same cultural milieu as many of those they serve, affording them a unique ability to make recommendations based on their own experiences with the product.
Make no mistake; budtending is serious business. Budtenders are tasked with the care of those they serve, informing them about the beneficial elements of particular strains, products, and methods of consumption. Patients often have additional questions related to dosage, allotment, and legal aspects related to marijuana usage—all of which budtenders are specialized in fielding.
In essence, this makes the budtender an authority on the subject of cannabis, which instills in patients a confidence that they are receiving accurate, reliable information about their purchases.
As a result, many patrons become returning customers, having built a rapport with the staff at their preferred dispensary, enabling them to comfortably defer to their budtenders regarding the merits of a given product.
By placing an emphasis on patient awareness, the cannabis business stands out as a profession abundant in well-informed consumers, which is conducive to overall customer satisfaction and, ultimately, the success of the industry.
At a time when the archetypal "expert" is seemingly vanishing from the world of retail, it's heartening to know that there will always be a place you can go to get sage advice from individuals who are truly experts in their field. As long as there is weed for sale, you'll always be able to count on your friendly neighborhood budtender to answer any questions you have.